Trumpet Artist - The Sideman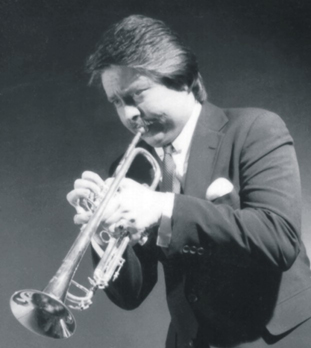 For many years I always felt Maynard
Ferguson was the king of upper register
trumpet playing. In recent years after
hearing a large succession of pretenders
to the throne, Iím convinced that Paul
Cacia is the only heir!
Best of luck to you Paul,
Al Porcino
1995

Early in Paul Cacia's career Paul worked for these Stars:
Bob Hope, Tennessee "Ernie" Ford, Martha Raye, Ed Ames, Abbe Lane,
Pat Boone, Frank Gorshen, The Pied Pipers, Dennis Day,
Scatman Crothers, The Mills Brothers, The International Three Ring Circus,
Tony Martin, Al Hirt, Ray Anthony, Prez Prado, Tito Puente, Calvin Jackson,
Dick Jensen, Sylvie Vartan, Shecky Green, Louie Bellson,
The Buddy Miles Express, Eric Clapton, Robert Plant,
Aretha Franklin, Elton John, Alice Cooper, Barry White,
Diana Ross, Maxine Nightingale, Chaka Khan,
Stevie Wonder, The Osmond's, Robert Guillome, Pia Zadora,
Delaney Bramlett, Thumbs Carlisle, Dolly Parton, Glen Campbell,
Tanya Tucker, Little Anthony, The Platters, The Spinners,
The four Tops, The Drifters, The Coasters, The Temptations, Frankie Avalon, Etc.
Noteworthy names who comprised multiple professional studio and concert colleague experience:
TRUMPET
Shorty Sherock, Ray Linn, Blue Mitchell, Pete Candoli, Ray Triscari, John Audino,
Glenn Stuart, Bud Brisbois, Al Porcino, "Cat" Anderson, Buddy Childers,
Chuck Findley, Al Arrons, Bobby Bryant, Zeke Zarchy, Maury Harris,
Steve Madeo, Jack Fierman, John Madrid, Stu Blumberg,
Frank Szabo, Clyde Reasinger, Bobby Shew,
Dalton Smith, Bill Berry.
TROMBONE
Tommy Pederson, Frank Rosolino, Carl Fontana, Slyde Hyde, Lew McCreary,
George Roberts, Kenny Shroyer, Jim Self, Larry O'Brien, Mio Tiana,
Brett Woodman, Herbie Harper, Bob Fitzpatrick, Bob Enovoldsen,
Alan Kaplan, Milt Bernhart, Dick Nash, Charlie Loper,
Harry Betts, Al Grey, Si Zentner, Bill Watrous.
SAXOPHONE
Art Pepper, Dick Spencer, Don Menza, Pete Christlieb, Bob Cooper,
Ernie Watts, Jackie Kelso, Marshal Royal, Bill Green, Jim Horn,
Bill Byrne, Med Flory, Herman Riley, Jack Nimitz,
Jay Migliori, Al Belletto.
DRUMS
Louie Bellson, Tito Puente, Sonny Payne, Buddy Miles, Jake Hanna, Tommy Vig.
BASS
Monty Budwig, Max Bennett.
GUITAR
Laurindo Almieda, Al Viola
PIANO
Milcho Leviev, Nat Pierce, Jimmy Rowles, Paul Smith, Bill Miller, George Gaffney.

It has been my great fortune to have worked with and known so many of the worlds
great musicians, to marvel at their gifts and have shared in their special qualities
as people, mentors and friends, for this, I will always be grateful.
Paul Cacia
EaThe Artist | Rock & Roll Years | The Sideman | The Protege | The Biography
Copyright © 2000 Empressario LLC. All Rights Reserved.