| | |
| --- | --- |
| | The Cacia Model Trumpet & Flugelhorn |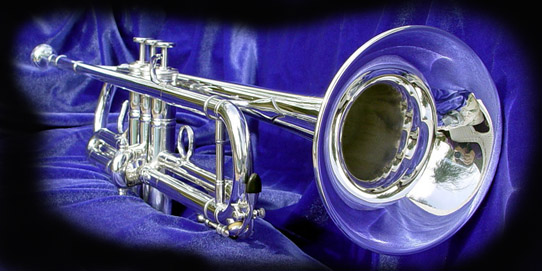 The Cacia Model Trumpet exemplifies the very sound of
Trumpet Artist Paul Cacia. It satisfies the demands of an artist of
his caliber. Built in collaboration with brass master Zig Kanstul, this
instrument is of the finest quality, each is custom made, handcrafted and
acoustically adjusted personally by Paul Cacia. This horn has been years in
the making, with the experience of Zig Kanstul building horns for Harry James,
Raphael Mendez, Claude Gordon and Arturo Sandoval, add the experience
of Paul Cacia and the years of working alongside most of the great players
of our time, and you have a great colloboration. They listened to what
players wanted most, which is the one thing they had in common "A
horn that was freeblowing, yet felt like there was something they could
play against." This is exactly what we've created in the Cacia Model
Trumpet. Each instrument is performance tested by Paul Cacia,
so go ahead, and take the horn right out of his hands.
The Design Of These Trumpets Are Exclusive!
Unlike any other trumpet this trumpet is designed to create a shelf to
play against in the upper register to enhance your higher range.
Taken from the secrets of the great lead trumpet players of the past,
every horn has a double "A" built into it.
These Instruments Are All Around Well Balanced!
From the moment you pick it up and feel its light weight, to the
moment you begin to put air through it, You'll feel how open
and free blowing it is and yet it has that responsive feeling, and control,
like you can light the bell up on fire!
With Carrying Power That Is Unsurpassed!
This is a horn specifically designed, featuring a custom hand
hammered one-piece bell that is lightweight so you can
light it up and yet be heard in the back of the concert hall.
With a classical mouthpiece it produces a dark,
warm sound, rich in overtones.
It Also Produces A Vibrant Lead Sound!
With a commercial mouthpiece it produces a bright, clean sound
that retains its shape perfect for the recording studio or live in a section.
With the Cacia lead pipe system, it gives you room at the top,to blend
perfectly with the section or push a little and overtake them in the
upper register. The higher you play the more it opens up.
"With superb intonation, it Slots!"
"The pitch is great! It's got a lot of Sizzle!"

TRUMPET FEATURES:
Medium Large Bore
Hand Hammered One-Piece 4 7/8 " Bell
Cacia Lead Pipe
Hand Fitted Monel Pistons
Hand Fitted and Adjusted Slides
Hand Chamfured Slides
Standard Water Keys
Long Lasting Metal Valve Guides
Light Weight (2 lbs)
3rd Valve Slide Adjustable Stop
Cacia Trumpet Mouthpiece
Ultimate Valve Button Pads



~ FLUGELHORN ~

The Cacia Model flugelhorn is a unique experience to play, perfect for studio work or live performance. The 6 inch bell is balanced with the bore to give that perfectly compact controlled sound you want in a flugelhorn. It's rich and sonorous tone is enhanced by the bell taper and one piece hand hammered construction. The valves are the finest and most responsive in the business, this is a professional quality top of the line studio quality instrument and it plays like a dream. It comes with a Cacia Model Flugelhorm mouthpiece. Each horn is play tested by trumpet artist Paul Cacia, so go ahead and take the horn right out of his hands! This is the finest flugelhorn on the market today!
The Cacia Model Trumpet & Flugel | Leading EDGE Trumpet & Flugel MP
The Ultimate PADS

sCopyright © 2006 Empressario LLC. All Rights Reserved.